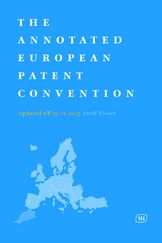 The 23rd edition of the book The Annotated European Patent Convention has been published. The book is updated till 15 November 2015. Some important amendments in this new work:
Recently issued Enlarged Board of Appeal decisions:
-G1/12: correction of the identity of the appellant is allowed;
-G1/13: the EPO recognises the retroactive effect of restoration of the existence of company under national law;
-G2/13: a product-by-process claim may be directed to a plant generated by a biological process, even if the process is an essentially biological process excluded from patentability;
-G3/14: clarification in which situations in opposition clarity may be examined.
In computer-implemented inventions, a claim often includes a non-technical feature. The EPO has redefined the procedure to assess inventive step for such a claim. The new procedure should avoid that a feature that is prima facie non-technical is not taken into account, whereas it does provide a technical contribution in interaction with other features. (Art. 56).
When responding with amendments to an EPO communication under R. 71(3) allowing a patent application, the EPO used to send a second R. 71(3) communication. It is now possible to waive the second R. 71(3) communication, thereby accelerating the procedure close to grant. (R. 71(3)).
Claim amendments in opposition oral proceedings may be submitted in handwriting. A decision may also be based on documents including handwriting. After the decision, the EPO will ask the proprietor to file a typed version of the document. (R. 82(2)).
The EPO has removed the monopoly of the post for delivering communications to parties or their representatives. The EPO can now choose the most suitable and low cost postal service provider for the delivery, including parcel delivery service providers, such as UPS and FedEx. The ten-day rule for notification applies to all of these postal service providers. The ten-day rule for notification of electronic documents has also been revised thoroughly. (R. 2 and 125-127).
You can order your print copy of the book by clicking the following link or view the full online version and related smart charts on Kluwer IPLaw.com.
_____________________________
To make sure you do not miss out on regular updates from the Kluwer Patent Blog, please subscribe here.
Kluwer IP Law
The 2022 Future Ready Lawyer survey showed that 79% of lawyers think that the importance of legal technology will increase for next year. With Kluwer IP Law you can navigate the increasingly global practice of IP law with specialized, local and cross-border information and tools from every preferred location. Are you, as an IP professional, ready for the future?

Learn how Kluwer IP Law can support you.