The Unified Patent Court has designated the presiding judges of the central, local and regional divisions, as well as presiding judges of the relevant panels of the Court.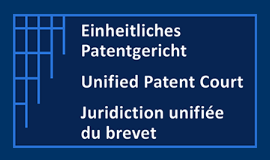 By decision of the UPC's presidium, which was published yesterday, the following judges were designated:
Central division PARIS: Ms Florence Butin
Central division MUNICH section: Ms Ulrike Voß
Local division VIENNA: Mr Walter Schober
Local division BRUSSELS: Mr Samuel Granata
Local division HELSINKI: Mr Petri Rinkinen
Local division PARIS: Ms Camille Lignieres
Local division DÜSSELDORF: Mr Ronny Thomas
Local division HAMBURG: Ms Sabine Klepsch
Local division MANNHEIM: Mr Peter Michael Tochtermann
Local division MUNICH: Mr Matthias Zigann
Local division MILAN: Mr Pierluigi Perrotti
Local division THE HAGUE: Mr Edger Brinkman
Local division LISBON: Ms Rute Lopes
Local division LJUBLJANA: Ms Mojca Mlakar
NORDIC-BALTIC Regional Division: Mr Stefan Johansson
The judges of the local and regional divisions mentioned above were also designated as presiding judges of the panels of their respective divisions.
_____________________________
To make sure you do not miss out on regular updates from the Kluwer Patent Blog, please subscribe here.
Kluwer IP Law
The 2022 Future Ready Lawyer survey showed that 79% of lawyers think that the importance of legal technology will increase for next year. With Kluwer IP Law you can navigate the increasingly global practice of IP law with specialized, local and cross-border information and tools from every preferred location. Are you, as an IP professional, ready for the future?

Learn how Kluwer IP Law can support you.