The preparations for the start of the Unitary Patent and the Unified Patent Court have gained momentum. In the upcoming week a high-profile conference on the UP system will be held in Brussels and a mock UPC trial in Paris.
The conference, jointly organised by the Belgian government, the EPO and the European Commission, will be held on Thursday 17 November, commences with keynote speeches from EPO president António Campinos, EU commissioner Thierry Breton, Belgium's minister of economy Pierre-Yves Dermagne and director-general for international affairs at the Swedish ministry of justice Anna-Carin Svensson.
Also, recently appointed judges to the Unified Patent Court, including the future president of the UPC's Court of Appeal Klaus Grabinski, 'will discuss how the court's creation overcomes fragmentation in the jurisdictional system and eliminates the last barrier to a European technology market.' A live stream of the conference will be available here. The program can be found here.
Mock trial

The mock trial will take place in the International courtroom of the Paris Commercial Court, which will host the future hearings of the Central Division of the UPC. It is the fourth mock trial organized by the UJUB, the French Union for the Patent Court, and will be held on 21 November from 13 to 18 hours. This time, judges will have to decide a highly international conflict concerning a patent for photovoltaic roof tiles.
The panel of judges will consist of Klaus Grabinski, Camille Lignières (legally qualified judge at the UPC local division in Paris), and Patrik Rydman (technically qualified judge).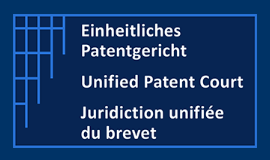 Preceding the trial, UJUB president Thierry Sueur, acting chair of the UPC Administrative Committee Johannes Karcher, the president of the UPC's Court of First Instance Florence Butin and the French ministers of Industry, Roland Lescure and of Justice Éric Dupont-Moretti will speak.
The program is available here. The mock trial will be broadcast live on the web. Registration is required here.
Remodeled website, EPO transitional measures
In the meantime, the UPC has launched a remodeled website. Publication of new content will occur during three main phases: the first content went online on 7 November 07, more will be released during the sunrise period and another update will follow during the entry into force period. The link is still the same.
And last but not least, the EPO has announced that, aligning with implementation roadmap published by the UPC, the starting date of its transitional measures will be adjusted to 1 January 2023. 'As of that date, patent applicants may file early requests for unitary effect and requests for a delay in issuing the decision to grant a European patent. The measures are applicable until the entry into operation of the Unitary Patent Protection system which is expected to be on 1 April 2023.'
More information about the two measures, which were introduced to support an early uptake of the Unitary Patent by the users, can be found here.
_____________________________